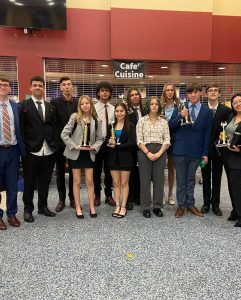 Seven Wellington students took home a trophy from Martin County High School at the first PBCFL tournament of 2023.
In Lincoln Douglas Debate, Paula Currea placed 5th, going 3-1. In Oral Interpretation, Angelina Greco placed 4th overall.
In congressional debate, Emma Gardner placed 2nd, Colin Gibson 4th, Emma Segfeldt and Brandon Burt each placed 5th, and Lauren Beer placed 6th. In addition, Emma Segfeldt was her chamber's best PO.
Wellington earned three new National Speech & Debate degrees. Madison Neltner passed the 150-point mark, earning her Degree of Excellence, whcil both Angelina Greco and Melody Pratz earned the Degree of Honor and their varsity debate letters, surpassing the 75-point plateau.