NATIONAL SPEECH & DEBATE ASSOCIATION NATIONAL CHAMPIONSHIP TOURNAMENT @ FT. LAUDERDALE:
DANGER, WILL ROBINSON! This is gonna be an extremely hella long email of debate world gratitude.
I have been blessed to be a part of the world of speech and debate since it was asked of me by my administration at South Fork High School in 2000. Over the past 18 years (and it really doesn't seem that long most of the time) I've experienced many highs, a few lows, and a brief moment or two of pondering the insanity defense as a legitimate motion.
To talk about the pride this year's National Speech & Debate national championship tournament, as well as the National Catholic Forensic League nationals in Washington, D.C., a few weeks ago, has provided me as a coach and a member of the human race is an injustice to discussion of pride. To recognize what seniors Bennett Aikey, Brandon Schloss, and Chris Slaughter, as well as juniors Zachary Jacobson, Michael Bole, and Natalie Navarrete, have achieved the past month is beyond amazing.
I'll start with Zachary, who has represented Wellington at three CatNats and three NSDA nats. To the best of my knowledge, no Wellington debater has ever achieved four CatNats (Barbara Dale Lauder McCall would know better); I am fully aware four NSDA nationals has never been achieved by a member of Red Dawn Debate. He is on the cusp of uncharted territory, and his senior year will be filled with great opportunities heading into Milwaukee and Dallas.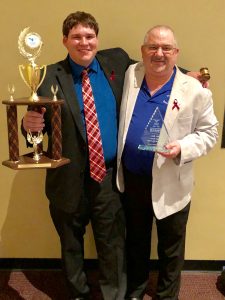 Bennett is the hardest working student I have ever had the opportunity to take under my educational wing. Educators love the idea of bell-to-bell workers in the classroom; Bennett is the lone individual of the thousands I've taught to actually achieve this … and he does so on a daily basis. He placed fourth in Congressional Debate at this year's Florida state debate championship, and was the only legislator ranked by all five judges in the final round. At CatNats, he advanced to semifinals, despite being sick as a dog, and ended up Top 40 in the nation. He didn't break at NSDA nationals, but he proudly represented Florida Oceanfront and Wellington, and will end up earning his NSDA Degree of Premier Distinction, surpassing 1,500 honor points, based on his speeches the past week. He will be staying local, and both helping my 2018-19 team with Congress, as well as judging for us. As I said in his letter of recommendation, and reiterated at the senior banquet, the world needs more Bennett Aikeys.
World Schools Debate this year was … an experience. What Michael, Natalie, Brandon, and Christopher achieved is beyond my wildest imagination. The three guys and I started preparing for nationals by traveling to Boston over spring break in March for the prestigious Harvard World Schools Debate Invitational (Michael had actually approached me last summer about the idea); the team (which also included Michael Ryter of Massachusetts) went 3-4, but got to face off against some of the best international WSD teams, including national teams representing places like Uganda, Hong Kong, and Canada. We invited Natalie to join us for the national championship, because of her amazing speaking style and ability, which we have seen in Congressional Debate for several years. After nationals "prepared motion" topics came out in early May, they did regular Skype and in-person work sessions, wrote and rewrote cases, and focused as a complete unit. They consulted Carrie McDaniel, a member of last year's Oceanfront team, when putting together arguments and cases, and I profusely thank Carrie for being a vital part of this year's team success.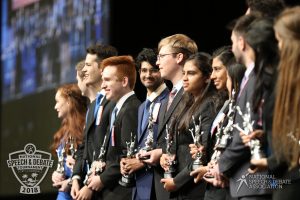 All the hours of hard work paid off. The Florida Oceanfront Blue Wave went 5-1 in preliminary rounds, which placed them as the 20th seed out of 197 teams. The Top 64 teams advanced. Oceanfront won triples, doubles, and octos, before falling on a 2-1 decision in quarters. And because NSDA nationals has international teams (China, for example, was in the finals), FLORIDA OCEANFRONT FINISHED THE TOURNAMENT FIFTH OVERALL IN THE WORLD. Michael was recognized as fourth-best speaker (of nearly 1,100) from preliminary rounds; Natalie ended up as 24th-best speaker. The quartet were given awards on stage.
I AM SO AMAZINGLY PROUD OF ALL THEY ACCOMPLISHED, AND HOW THEY ACCOMPLISHED IT!
Brandon and Chris are seniors. They have no ego when working on WSD, where only three members of the team are allowed to speak during a round. The team had collectively decided Natalie should be first speaker, while Michael should be second and fourth speaker. Other students could have easily cried about lack of speaking involvement. As seniors, Brandon and Chris could have each pointed out this was their final high school debate tournament, and they should be afforded more opportunities to speak. And it was well within their right to at least ask for consideration of this when it came to the national tournament.
But they didn't. Brandon and Chris chose to split the role of third speaker, and based on their understanding and comfort zone of each rounds' motion, who would speak. This is such an amazingly mature and selfless attitude, and it led to wonderful results. I could not be prouder of the leadership and poise these two young men showed.
Because of the team's success this week, Michael and Natalie have been invited to apply for Team USA, which represents the nation on the international scale in WSD. They are also locked in to represent Oceanfront in 2019. Michael attends Dreyfoos School of the Arts; Natalie attends Boca Raton. And while it's a bit weird to "coach" students from other area programs, it's an honor to work with such amazing and dedicated young adults. For example, I was in communication with Angie Weber Anyzeski on a regular basis, because Michael is her student, and I wanted us to be on the same page. It was sort of like co-teaching, and it worked out very well. I'm looking forward to working with them – and the other to-be-decided members of Florida Oceanfront WSD – in 2019.
This year's success is predicated on last year's success. So to put this year's Florida Oceanfront Blue World Schools Debate team in perspective, I need to drop back to last year, and the Wellington quartet of Schloss, Slaughter, McDaniel, and Connor Yeackley, who were my First Generation of WSD. ALL OF THIS YEAR'S SUCCESS IS AN EXTENSION OF LAST YEAR, AND I HAVE SO MANY THANKS TO OFFER THOSE WHO PLAYED A PART IN 2017. Without you, I wouldn't be writing this, because we would not have achieved so much this year.
The night before 2017 NSDA nationals, in Birmingham, Alabama, I told the team, "All I wanted from you was to be competent and competitive. You got that. You're good. But I have no idea how good, because we've never actually competed in this event before. We might be the best team here. For all I know, we might be the worst team here. I have no sense of comparison. So go and have fun!"
Which they did. Oceanfront went 4-2, was the 32nd seed of 172 teams, and lost to the eventual national runners-up (or is it runner-ups?), with Carrie taking home the fifth-place overall speaker award (of 915 students in WSD).
Carrie and Connor essentially opted for WSD because they ended up the odd Public Forum Debate team out at the Oceanfront District national qualifier. (This is not a knock on either the Oxbridge or Boca teams; our district was blessed to have three amazingly strong PFD squads, and only two could advance to NSDA nationals in Birmingham.) C+C decided to compete in WSD, and we ended up with the all-Wellington squad.
None of us knew squat about the event, but we started prepping in May, after the prepared motions were announced. I was in contact with Chase Williams, whose Ohio team had lost finals to Florida Manatee in 2016, and is an amazing wealth of information about the event. He provided us guidance and knowledge, and for this, we thank him; our success the last two years is a direct extension of all he has provided us. I equally thank Cindi Timmons, Shane Stafford, and Sandra Berkowitz, who have provided guidance and advice on looking at creating an Oceanfront WSD team to compete on the national circuit.
We spent two solid weeks at Panera Bread researching, writing, editing, and rewriting cases. Zachariah Chou, who was a member of the Manatee champion team, read over our arguments and offered constructive ideas and edits, to make them more in-line with WSD formatting and procedures. Again, our success the past two years is a direct reflection on his assistance, and we thank him wholeheartedly.
We traveled Florida, scrimmaging teams in Coral Springs, Orlando, and Tampa, before road-tripping to Alabama. I truly believe these hands-on experiences – seven rounds total – not only benefitted us at nationals, but all the teams we worked with. A huge thank you to Megan West, Jesus Caro, Michael Norton, Terri Thomson St John, David Mills, Loveleen Kang, Anna Lassiter, Beth Eskin, and Nathan Johnston, among others, for helping us represent all of Florida and Florida Oceanfront proudly and professionally on the international stage. It's a testament to my Florida coaching peers that we work together for the betterment of all our students. As one coach I spoke to said, "We may be competitive against each other at tournaments, but it's a friendly competition, and we always have each others' backs." I wholeheartedly agree. I know many of my peers also agree.
Perhaps the best thing about my WSD experience is that all six students who have been part of my world in this event the past two years have said, without reservation, participating in World Schools Debate is the most fun they've ever had in Debate. What a wonderful testament to both the event and their working within the confines of WSD. Honestly – and I've said this many times – if you're not having fun in Debate, why are you participating?
Finally, I thank the families of Bennett, Michael, Zachary, Carrie, Natalie, Brandon, Chris, and Connor. Your unwavering support of your children in the galaxy of competitive speaking has been such a huge asset. We would never be able to accomplish all of this without you. Your children make me look so much better as a coach than I truly am, and I am humbled to be a part of your lives.
NATIONAL CATHOLIC FORENSIC LEAGUE NATIONAL "GRAND NATIONALS" CHAMPIONSHIP TOURNAMENT @ WASHINGTON, D.C.:
Bennett Aikey advanced to semifinals in Congressional Debate, finishing as one of the top 40 student legislators in the nation.
FORUM CLUB OF THE PALM BEACHES: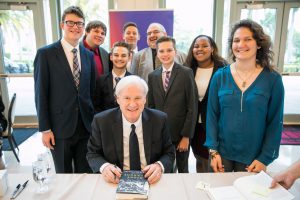 Seven members of Wellington Speech and Debate were invited to hear MSNBC's Chris Matthews speak at the Forum Club of the Palm Beaches luncheon in May 2017: Those in attendance were Bennett Aikey, William Bussey, James Haripal, Zachary Jacobson, Helie Macius, Emilie Rott, and Morgan Williams. Bennett Aikey was given the opportunity to ask Chris Matthews about the Deferred Action for Childhood Arrivals (DACA) immigration policy, and whether it would be overturned or revamped and reintroduced by the Trump Administration.
FLORIDA FORENSIC LEAGUE NOVICE STATE CHAMPIONSHIP:
Matthew McGann SIXTH in Informative Speaking, and William Bussey SECOND in Impromptu Speaking! #ProudCoach RAISE THE ROOF!
FLORIDA OCEANFRONT NSDA DISTRICT NATIONAL QUALIFIER: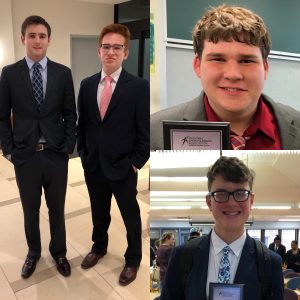 Qualifying for the 2018 National Speech & Debate Association National Congress are Alex Gordon, Lindsay Spruce, Bennett Aikey, Maya Levkovitz, and Nirmit Chandan! Joining Bennett Aikey at the 2018 National Speech & Debate Association national championship: Zachary Jacobson in Dramatic Interpretation, and Brandon Schloss & Chris Slaughter in World Schools Debate!
FLORIDA FORENSIC LEAGUE VARSITY STATE CHAMPIONSHIP:
Senior Bennett Aikey placed FOURTH OVERALL in Congressional Debate at the 2018 Florida Forensic League state debate championship tournament this weekend in Orlando. Aikey was one of four Palm Beach County debaters to advance to the final round in Congress, and all four were among the top six in the state.
Aikey's finish is the third-best in Wellington Debate Coach Paul Gaba's history, trailing only Ben Walker's second-place finish in Congressional Debate in 2007 and the third-place finish of the Public Forum Debate team of Greg Foster & Michael Leatherman in 2015.
Aikey was the only legislator in the final session to be ranked by all five judges.
In addition, Paul Gaba was recognized as FFL Macaw Region Coach of the Year.
PBCFL "GRAND FINALS" NATIONAL QUALIFIER TOURNAMENT:
Qualifying to represent Wellington at NCFL Nationals in Washington, D.C., will be Zachary Jacobson in Dramatic Performance and Bennett Aikey in Congressional Debate.
BRANDON SCHLOSS RECOGNIZED AS 2018 NSDA EXEMPLARY STUDENT SERVICE AWARD WINNER:
Wellington Speech and Debate's Brandon Schloss was recognized by the National Speech and Debate Association as the recipient of its 2018 Exemplary Student Service Award.
Schloss was a unanimous choice by a committee of past NSDA "Student of the Year" honorees, who took into account his hundreds of hours as a regional, state, and national anti-bullying spokesman. He was selected by Stomp Out Bullying (the leading national bullying and cyberbullying prevention organization) to speak at schools, at events, in the community, to the media, and raise awareness through social media about bullying and cyberbullying prevention. Mr. Schloss has accumulated in excess of 400 community service hours speaking to students at schools, after-care programs, camps and mall events the past 3 years. He has also been active with the Palm Beach County Sheriff's Office Gang Prevention Unit since 2014, where he coordinates and speaks to elementary school and after care programs about youth violence and bullying. As part of this venture, Brandon has worked with the Palm Beach County School District, Children Services Council, and the Literacy Coalition of Palm Beach County in organizing and speaking at schools and camps.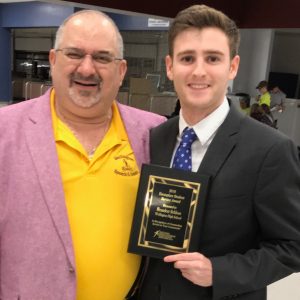 All of this began after Schloss wrote an essay for the National Campaign to Stop Violence which included his reflections after reading a news story about an area 15-year-old charged with first-degree murder over a bicycle. He was honored to be selected as an ambassador for Palm Beach County and meet with other youth ambassadors from around the country in Washington D.C., where he met teens from across the nation who had been directly impacted by gang violence, ranging from friends' suicide due to bullying, to living in foster homes due to gang-related drug trafficking, to family deaths via stray bullets.
Through the Do The Write Thing competition, Schloss was challenged to express himself in words.  After leaving Washington, D.C., he challenged himself to go beyond the words.  He realized he had a responsibility to serve the community by working for positive change and improving the lives of others. This epiphany was not a calling to seek a specific career path, but rather an understanding that being a true leader is not a role, but a responsibility. Leadership, he told me, is practiced not so much in words as in one's character and actions. With that in mind, he contacted schools and volunteered to speak with students about the impact of violence and bullying.
The past four years, Brandon has spoken to hundreds of children at schools, after-care programs, summer camps, and in mall events. Whether speaking on behalf of the Palm Beach County Sheriff's Gang Prevention Unit or the Stomp Out Bullying organization, as one of their national teen ambassadors, his message is simple and clear: "Imagine standing in someone else's shoes; how would that make you feel?" This simple but profound message of empathy now guides his relationship with others and is a foundation of his character.
LIBERTY BELL CLASSIC @ UPENN:
Sara Casey advanced to semifinals in Congressional Debate!
FLORIDA FORENSIC LEAGUE MACAW REGION STATE QUALIFIER:
Headed to the Florida Forensic League state championship in Orlando next month: Dallas Nickels (DX), Zac Jacobson (DI & HI), Scarlet Jasperson (DI), Anthony Marton & Kristina Davis (DUO), Matt McGann (IX), Jordyn Bergman (IX), Gabrielle Barton (OI), Anthony Marton (OO), Matias Galguera & Lauren Myerson (PFD), and Bennett Aikey (Congress). And Coach Paul Gaba is FFL Macaw Region Coach of the Year! #ChasingEagles.
BARKLEY FORUM FOR HIGH SCHOOLS @ EMORY UNIVERSITY:
Advancing to Congressional Debate semifinals at the Barkley Forum for High Schools at Emory University – Bennett Aikey!
PBCFL @ SEMINOLE RIDGE:
Wellington success at the Seminole Ridge PBCFL:
Dramatic Performance: Zachary Jacobson, 1st Place.
Congressional Debate: Matias Galguera, 2nd Place (and top Presiding Officer); Christopher Slaughter, 3rd Place; Lauren Myerson, 5th Place (and top Presiding Officer); Nailah Williams, 5th Place.
Novice Original Oratory: Robin Rajimon, 6th Place.
NEW NSDA DEGREES: Nailah Williams, Degree of Outstanding Distinction (1,000+ honor points); Kieran Abesamis and Emma Gherlan, Degree of Honor (75+ honor points).
PATRIOT GAMES INVITATIONAL @ GEORGE MASON UNIVERSITY: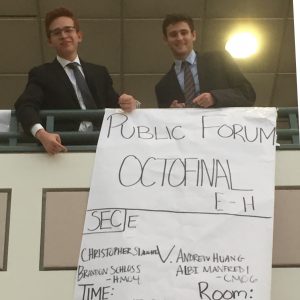 Wellington Debate had a successful weekend in Fairfax, Virginia and Washington, D.C., while competing at the George Mason University Patriot Games Invitational.
In Public Forum Debate, the team of Brandon Schloss and Christopher Slaughter went 6-2 and finished 13th overall out of nearly 200 teams, advancing to the octafinal round of competition on Sunday.
In Congressional Debate, both Sara Casey and Helie Macius advanced to the semifinal round of competition.
Macius earned her National Speech & Debate Association Degree of Excellence (150+ honor points), Oleg Shchegelskiy earned his Degree of Honor (75+ points) and his varsity debate letter, and John Barry earned his Degree of Merit (25+ points).
COACH GABA PUBLISHED IN THE ROSTRUM!
It's a story (pages 46-48) in the November-December 2017 edition of The Rostrum about the correlation between high school radio and high school debate! (You can also read the article here.)
PBCFL @ MARTIN COUNTY:
Saturday was a good day for the Wellington Speech & Debate Team, as it had great success at the Martin County PBCFL tournament.
In Extemporaneous Speaking, Dallas Nickels placed second overall, and Christopher Slaughter took fifth.
Karinne Mitchell tied for second in Declamation.
In Dramatic Performance, Zachary Jacobson took third place.
In Novice Public Forum Debate, the team of Matthew McGann & Caitlin Daronco went 3-1 and placed fifth.
In Original Oratory, Angelica Sabol took fifth place.
In Congressional Debate, Nailah Williams was fifth in her chamber.
Wellington earned seven new National Speech & Debate Association degrees. Emilie Rott earned her Degree of Distinction (250+ points), McGann his Degree of Excellence (150+), and Mitchell her Degree of Honor (75+), while four students – William Bussey, Daronco, Justin Hernandez, and Jean Saint-Hilaire – each earned NSDA membership and the Degree of Merit.
FLORIDA BLUE KEY INVITATIONAL: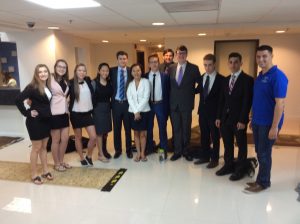 The Wellington Speech and Debate Team has a phenomenal weekend in Gainesville at the annual Florida Blue Key Invitational this weekend. Please congratulate:
Bennett Aikey, semifinalist, Congressional Debate
Sara Casey, semifinalist, Congressional Debate
Zachary Jacobson, quarterfinalist, Humorous Interpretation
Zachary Jacobson, quarterfinalist, Dramatic Interpretation
Julie Cesta, octofinalist, Domestic Extemporaneous Speaking
Julie Cesta, octofinalist, Foreign Extemporaneous Speaking
Matthew McGann, octofinalist, Foreign Extemporaneous Speaking
PBCFL @ SPANISH RIVER:
A two-week PBCFL turnaround was not enough to keep Wellington Debate from making its presence felt with authority at Spanish River High School. Multiple Wolverines came home with accolades from the October 21 competition.
In Novice Extemporaneous Speaking, Matthew McGann picket-fenced his was to a first-place finish, while Karinne Mitchell took fifth. Paul Ludwig finished eighth, and Oleg Shchegelskiy ninth.
In Varsity Extemporaneous Speaking, Julie Cesta placed second overall.
In Dramatic Performance, Zachary Jacobson finished third.
In Novice Duo Interpretation, the team of Alif Hussain and Madison Mason finished fifth.
In Congressional Debate, Bennett Aikey finished first in his chamber, and Amanda Ng took sixth in hers.
Wellington earned seven new National Speech & Debate Association degrees. Taylor Peterson surpassed the 250-point plateau, earning her Degree of Distinction, and six first-year debaters – Dorian Chin, Hussain, Ludwig, Ng, Mason, and Shchegelskiy – each earned their NSDA memberships and the Degree of Merit.
PBCFL CONGRESSIONAL@ SUNCOAST:
It may have taken two extra weeks due to Hurricane Irma, but when Wellington's debaters were finally able to compete at the 2017 PBCFL Congressional at Suncoast High School, the results were extremely satisfying, as the Red Dawn Debaters took home 15 accolades on Saturday, October 7.
Novices who were recognized were:
1st Place, House F: Matthew McGann
2nd Place, House E: Emma Gherlan
2nd Place, House F: Karinne Mitchell
2nd Place, House G: Enzo Vullo
3rd Place, House D: Kieran Abesamis
4th Place, House B: Jayson Yin
6th Place, House B: Oleg Shchegelskiy
6th Place, House F: Caitlin Daronco
In addition, seven novices received at least one judge rank during the day: William Bussey, Dorian Chin, Madison Mason, Christopher Montesano-Mills, Travis Race, Robin Rajimon, and Jean Saint-Hilaire.
Among Wellington's varsity debaters, the following were recognized during awards:
1st Place, Senate A: Bennett Aikey
1st Place, Senate D: Nailah Williams
2nd Place, Senate B: Matias Galguera
6th Place, Senate C: Anthony Marton
Jordyn Bergman, Mikayla Joseph, and Helie Macius also received judge ranks during the tournament.
Wellington also took home three gavels as their chambers' top Presiding Officer. Anthony Marton won a gavel, and Angelina Sabol won two gavels.
Wellington earned seven new National Speech and Debate Association degrees. Angelica Sabol earned her Degree of Distinction (250+ NSDA honor points). Both Jannard Jackson and Matthew McGann earned their Degree of Honor (75+ points), and will receive their varsity letters at the spring DeBanquet. And earning the Degree of Merit (25+ points) were Kieran Abesamis, Emma Gherlan, Karinne Mitchell, and Enzo Vullo.
FLYING L INVITATIONAL: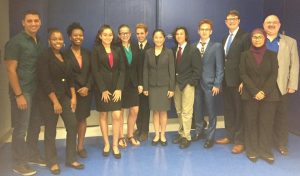 Competing at Ft. Lauderdale High School's Flying L Invitational on the heels of Hurricane Irma was a unique situation in Wellington Debate's history: having to prepare first-year debaters for their first-ever high school competition in only three days.
Luckily, Wellington Debate was up to the task.
Wellington scored a double dose of Flying L Invitational third place finishes in Novice Congressional Debate on Saturday; both Amanda Ng and Matthew McGann received accolades! And Emma Gherlan was sixth in her chamber! Not bad for working with only a three-day boot camp to prepare!
Ng received two first-place judge votes during the competition. McGann received judge ranks of 2nd, 3rd, and 4th. Gherlan earned a 5th and 6th place judge rank.
All six of Wellington's novices – Ng, McCann, Gherlan, Alif Hussain, Karinne Mitchell, and Travis Race – presented speeches at the tournament.
Also competing on short notice were varsity legislators Mikayla Joseph and Nailah Williams, Christopher Slaughter in Extemporaneous Speaking, and Zachary Jacobson in both Dramatic Performance and Program of Oral Interpretation.
McGann gave six speeches and earned 33 National Speech and Debate Association honor points. He also earned his NSDA certificate.