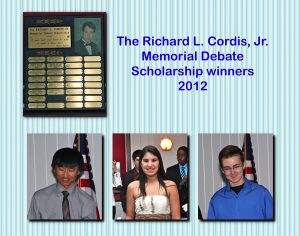 The Wellington Speech & Debate Team offers several $500 scholarships for Wellington speech and debate students who plan on attending a summer debate or forensic institute of their choice: the Richard L. Cordis Jr. Memorial Debate Scholarship.
The purpose of the scholarship is to allow students to go to debate camp who may not otherwise be able to attend. These students, in turn, bring back their knowledge to Wellington to teach others about their events. In this way the scholarships benefit not just the individuals who received them, but the team as a whole.
Richard L. Cordis Jr. was an outstanding debate student at Wellington High School. He displayed a quick wit and a great intellect. Rich specialized in Lincoln Douglas debate and was an outstanding competitor. He was one of the first volunteers in the Palm Beach County Youth Court Program and was the first Youth Court Challenge winner.
After high school he enrolled at the University of Florida and planned to attend law school. Even in college he continued to serve his high school team by judging at the Florida Blue Key Debate Tournament. Rich Cordis's life was tragically cut short when he and his girlfriend were killed in a non-alcohol related accident in Gainesville.
The Cordis family recognized Rich's love of debate and even in their grief thought of others. They founded the Richard L. Cordis Jr. Memorial Debate Scholarship to help promote Rich's love of debate. Since 1999, their generosity has enabled Wellington Debate and Forensic Team students to attend debate camps and bring knowledge back to Wellington High School.
One scholarship is reserved for a novice student; applications are open to all debate students who will be returning to Wellington High School the following year. A student may not win the scholarship more than once.
Selections are based on perceived financial need, willingness to teach others what is learned, a true desire to improve debate skills, and potential for development through the debate experience. A student need not have had great debate success in order to be chosen, but should express a great desire to improve. The selection committee includes Wellington Speech & Debate Director Paul Gaba, former Assistant Coach Eilleen Dempsey, and Liz Cordis. The final selections will be made by Mrs. Cordis with input from the rest of the committee.
The 50 Recipients of the Cordis and Mario Restivo Memorial Scholarships:
2019: Jaiden Blinston
2017: Angelica Sabol
2016: Sara Casey, Julie Cesta, Zachary Jacobson
2015: Bennett Aikey, Karina Frandjian, Christopher Slaughter
2014: Toni Deaver, Mya Smith
2013: Greg Foster, Dylan Race, Savannah Race
2012: Leila Booeshaghi, Michael Leatherman, Yourui Ruan
2011: Madison Dalton, Dominick DeFazio, Alexa Fortuna, Stephie Maravankin
2010: Rachel Ganon, Ryan Kennedy, Michael Reynolds
2009: Alex Hernicz, Madeline Schmees
2008: William Fetzko, Kaila Kelly, Jack Townsend
2007: Evan Baumel, Lee-Ann Jahore, Kevin Sopczak
2006: Amanda DeStefano, Chelsea Fitzgerald
2005: Caitlyn Gross, Sloan Shaffer
2004: Amy Levine, Samantha Perrone, Ashley Speers
2003: Tabitha Armstrong, Kelly-Ann Fasano; Steve Sinclair (Restivo)
2002: Jacob Haft, Amber Speers; Kim Healy (Restivo)
2001: Amy Foster, Jon Levine
2000: Megan Hooper, Peter Moody
1999: Tim Case, Michelle Moody