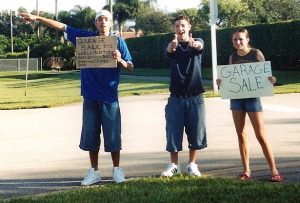 Wellington Speech & Debate offers a 50/50 fundraiser "credit line" opportunity to each member of the program. Any credit earned can be applied to debate-related expenses during tenure in the program. We attempt to keep fundraising to a minimum, but to do this we need the participation of everyone. If you choose not to participate, you may elect to donate a targeted profit in its place. Fundraising is necessary to allow our team to travel and be competitive at the local, regional and national level.
The Wellington Speech & Debate Team is actively seeking individual and corporate sponsors to assist with its operation. These contributions will help provide the Wellington Speech & Debate Team with the resources it needs to expand opportunities for the participants in Speech and Debate activities. The activity is not inexpensive. To be competitive, students must travel to local, regional and national tournaments; the cost to the team of attending a tournament can range from $1,200 to $5,000. The ability of the team to succeed on a national level depends on its ability to garner support from the community.
Each year, Wellington Speech & Debate Team members and their parents must rely on fundraising efforts. Funds are raised through corporate donations, personal donations, and hosting tournaments. You can become part of the Wellington Debate and Forensic Team and help insure the continued tradition of excellence by making a tax deductible contribution. You do not have to have students in the program to participate.
Team sponsors will be acknowledged at team events, including speech and debate tournaments hosted by Wellington High School, and the annual team banquet. Individuals or companies that donate at least $500 are also added to our "Donors of Special Distinction" wall plaque. 
If you would like to actively support the Wellington Speech & Debate Team (and your support is strongly encouraged!), you might want to consider getting involved in the Wolverine Debate Parents Association. The WDPA supports the team in many ways, including: providing chaperones when the team travels out of the area; support for Wolverine-hosted tournaments; support for the annual awards banquet; and fundraising. For additional information about donations, corporate donations or alumni donations, please contact Wellington's Director of Speech & Debate, Paul L. Gaba. Or you can make checks payable to the Wellington Debate and Forensic Team and mail them to:
Wellington High School Speech & Debate Team
2101 Greenview Shores Boulevard
Wellington, FL 33414
The Wellington Speech & DebateTeam is a governmental organization. Contributions are tax deductible to the extent allowed by IRS regulations.