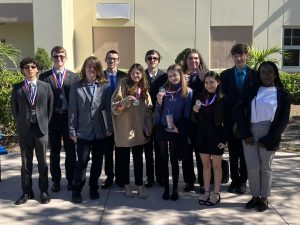 The
Wellington Speech & Debate Team
took home quite a bit of hardware at today's Southeast Florida Civics & Debate Initiative tournament in Boynton Beach.
Angelina Greco placed 1st in Oral Interpretation. Liam Stines took top honors in Extemporaneous Speaking.
In Congressional Debate, Patrick McDermott placed 1st in his chamber, Addison Kurz and Emma Gardner each placed 2nd, Brandon Burt 3rd, and Alexandra Versailles 4th. In addition, Adrian Perez-Rodriguez, Caellen Semco, Donovan Carey, and Emma Gardner all presided in their chambers, meaning all presiding officers were Red Dawn Debaters.
Wellington earned five new National Speech & Debate Association degrees at the Congress Middle School competition. Addison Kurz earned her Degree of Excellence (150+ points), and four students earned the Degree of Honor and their varsity letter: Brandon Burt, Donovan Carey, Adrian Perez-Rodriguez, and Caellen Semco.