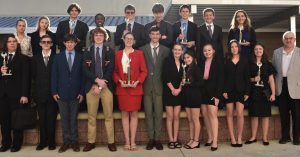 Saturday's PBCFL at Palm Beach Central was the best overall showing for Wellington Speech & Debate this year.
In Varsity Oral Interpretation, Madison Neltner took first place overall, with McKenna Wickers placing second. In Novice Oral Interpretation, Juliana Schuster placed second, Angelina Greco fourth, and Laurie Veillard sixth.
In Program Oral Interpretation, McKenna Wickers took second and Karola Ortiz Roidriguez fourth.
In Novice Lincoln Douglas Debate, Brandon Burth and Eric Holtgrewe each went 3-1, placing third and fourth overall.
In Novice Congressional Debate, both Anigail Kitlas and Jonathan Paul placed third in their chambers, with Abigail earning a gavel as her chamber's best Presiding Officer. Maddox Manriquez placed firth in his novice chamber. And in Varsity Congress, Patrick McDermott finished third in his chamber.
In Novice Extemporaneous Speaking, Connor Mack placed fourth.
Colin Gibson placed third in Impromptu Speaking.
Ten Wellington speech and debate students earned National Speech & Debate Association membership: Michael Diaz, Gavin DiPasquale, Jerom Khela, Abigail Kitlas, Connor Mack, Maddox Manriquez, Diego Pando, Jonathan Paul, Adam Tryniszewski, and Laurie Veillard.