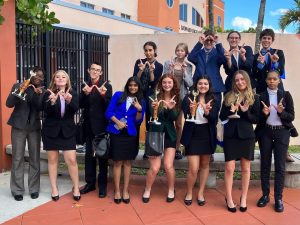 A number of Wellington Speech & Debate students took home hardware from the October PBCFL at John I. Leonard High School.
In Varsity Oral Interpretation, Hannah Pahl placed 1st and Maria Ramirez 3rd.
In Novice Oral Interpretation, Zaria DaSilva took 2nd and Juliana Schuster 5th.
In Oratory, Ahna Guillaume placed third.
The Public Forum Debate team of Ewa Tryniszewski & Paula Currea went 3-1 and finished 4th.
In Novice Extemporaneous, Melody Pratz placed fifth.
Ava Cassel earned a gavel as her chamber's best Presiding Officer in Congressional Debate.
The Red Dawn Debaters added 8 new NSDA degrees and members. Emma Gardner earned the Degree of Distinction; both Noor El Tohamy and Stacy Joseph earned the Degree of Honor; and novices Mohammed Al-Masoodi, Zaria DaSilva, Neela Fulcher, Melody Pratz, and Juliana Schuster the Degree of Merit.