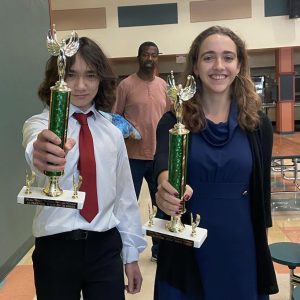 Wellington had great success at the Suncoast PBCFL Saturday, November 5.
In Varsity Public Forum Debate, the team of Arthur Hu-Manning and Olivia Winton placed first, and the team of Emma Gardner and Ewa Tryniszewski placed second. Both wen 3-1.
Anna Guillaume placed second in Original Oratory, Karola Ortiz Rodriguez placed second in Program Oral Interpretation, and In Oral Interpretation, Hannah Pahl took second and Isabella Parissos took 5th.
In Declamation, Gabriela Velandia Parra took second.
In Dramatic Performance, Colin Gibson placed 5th.
Caellen Semco earned a gavel as her Congressional Debate chamber's best Presiding Officer.
Wellington earned six new National Speech & Debate Association degrees. Both Ray Estevez and Colin Gibson passed the 500-point mark, earning the Degree of Special Distinction. Logan Joseph earned the Degree of Honor and his varsity debate letter, passing the 75-point mark. And three first-year debaters earned membership in the NSDA: Alexa Charlot, Anabella Sabugo, and Nikolas Sullivan.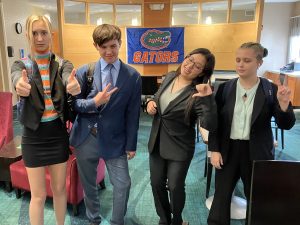 The tournament came one week after Wellington's first trip to the Florida Blue Key Invitational in Gainesville. Four Red Dawn Debaters – Lauren Beer, Paula Currea, Colin Gibson, and Ewa Tryniszewski – represented Wellington.