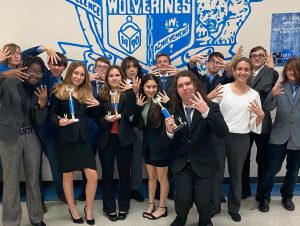 Wellington Speech & Debate had a great experience in hosting the initial PBCFL of the 2022-23 school year on Saturday, September 24. I admit, I had a few concerns headed into the tourney. The first tournament of the year is always an interesting experience, as we have a ton of new students, new parents, new coaches, and new volunteers trying to navigate their way through the complex world of competitive speech and debate. But I received numerous compliments from teachers, coaches, judges, and competitors on how smoothly things ran all day, and that's huge props to everyone that was a part of the day. In particular, the student volunteers were praised for their attention to detail, their enthusiasm, and their work ethic. I could not be prouder of how they represented what is good and amazing about the young adults and future world leaders we have in my program.

As for how we did …

Seven members of the Red Dawn Debaters took home trophies in Congressional Debate, and another seven earned gavels as presiding officers at the tournament.

Placing third in their respective chambers were novices Brandon Burt and Melody Pratz.

Taking fourth was novice Alexa Charlot.

Fifth place was earned by novice Juliana Schuster.

Three debaters placed sixth in their chambers – novices Hannah Pardo and Maddox Manriquez, and varsity Jaden Manrodt.

Earning gavels were Donovan Carey, Colin Gibson, David Goldberg, Ahna Guillaume, Eleanor Myers, Bella Tombari, and McKenna Wickers.

Wellington earned its first four National Speech & Debate Association degrees at the tournament. Earning their varsity letters and the Degree of Honor (75+ points) were Arthur Hu-Manning, Eleanor Myers, and Liam Stines, and earning NSDA membership (25+ points) was Brandon Burt.

Thank you again for an amazing day! And congratulations on a successful endeavor!