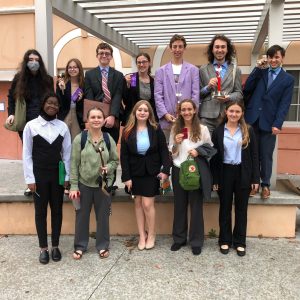 Welli
ngton's Red Dawn Debaters had a much better outcome than either the Packers or Titans on Saturday, January 22, at the Seminole Ridge HS PBCFL tournament.
In Congressional Debate, Bella Tombari, Ewa Tryniszewski, and Emma Gardner each took home gavels as the top Presiding Officer in their chambers. Gardner also took sixth place.
In Declamation, Olivia Winton placed second.
Extemporaneous Speaking saw Samuel Johnson take first and Colin Gibson finish third.
Hannah Pahl placed second in Oral Interpretation, while Madison Neltner placed sixth.
Gardner earned her National Speech & Debate Association Degree of Honor, surpassing 75 points, while five novices each earned NSDA membership: Donovan Carey, Ava Cassel, Chiara Milazzi, Brian Stinson, and Andreanna Wellington.