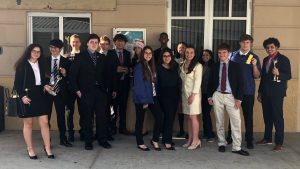 Wellington Speech & Debate closed out the 2019 calendar year with a solid performance at the December PBCFL hosted by Palm Beach Central High School on Saturday, December 14.
In Congressional Debate, Liam MacMahon placed first in his chamber, while Maddie Kaplan placed second. Both Aliza Guerreiro and Zoe Fleurinord placed third in their chambers, while Tahiya Zaman and Rylee Bleakley each finished fourth. Julien Hourdebaigt took fifth, and Dakari Holder sixth. In addition, four Red Dawn Debaters earned gavels as their respective chamber's top presiding officer – Jaiden Watkins, Gonzalo Pardo, Tahiya Zaman, and Aliza Guerreiro. In addition, eight students – Justine Galguera, Shanna Kaplan, Jakob Lefkowitz, Shaida Meier, Ashley Pankow, Gonzalo Pardo, Jenalyn Spies, and Harrison Winton – each earned at least one judge rank during the day.
In Novice Extemporaneous Speaking, Alexander Valdes placed first, while Nicholas Raney placed fourth in Varsity Extemporaneous Speaking.
McKenna Wickers placed fourth in Novice Dramatic Performance.
Wellington earned sixteen new National Speech and Debate Association degrees, including 10 new members. Earning the Degree of Distinction was Liam MacMahon. Earning the Degree of Excellence were Jenalyn Spies, Alexander Valdes, McKenna Wickers, and Harrison Winton. Earning the Degree of Honor, and his varsity debate letter, was Jason Miller. And earning membership in the NSDA were Lauren Beer, Sofia Casteneda-Castell, Zoe Fleurinord, Aliza Guerreiro, Dakari Holder, Julien Hourdebaigt, Ashley Pankow, Boden Profitt, Mason Satterwhite, and Tomas Vajna.