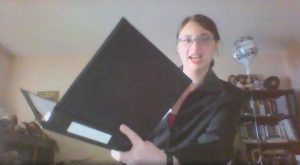 When the National Speech & Debate Association announced it would be moving its 2020 national tournament to an online format, the league also added a "Senior Open" for 2020 graduates who were denied the opportunity to compete the last few months of their senior year due to the coronavirus.
Wellington's MiaBeth Gorodetzer-Edelman participated in the Senior Open. She recorded a 10-minute-long Program Oral Interpretation in advance on to subject of war and veterans. (All interp performances for both the Senior Open and National Tournament were to be pre-recorded.)
Gorodetzer-Edelman used the poetry The Charge of the Light Brigade by Alfred Lord Tennyson, Where Broken Soldiers Go by Michael Anderson, and The Last of the Light Brigade by Rudyard Kipling, along with scripts from M*A*S*H, articles from The National Coalition for Homeless Veterans and the U.S. Interagency Council on Homelessness, and music by The Cranberries.