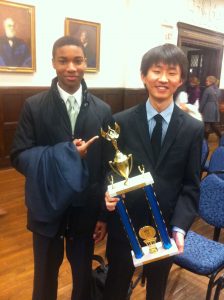 Four members of the Wellington Speech & Debate program represented Wolverines Nation at this year's national debate championship tournaments in June.
Seniors Zachary Jacobson and William Parker Bussey, junior Nailah Williams, and sophomore Matthew McGann competed at the 2019 National Speech & Debate Association National Championship in Dallas in June. Jacobson – the Red Dawn Debaters' first-ever four-time national championship qualifier – qualified in Dramatic Interpretation with his performance of Justin Butcher's "Scaramouche Jones," while Bussey, McGann, and Williams competed in Extemporaneous Speaking.
Wellington also had a pair of first alternates – freshmen Megan Gonzales-Mugaburu in Extemporaneous Speaking and Jaiden Blinston in Dramatic Interpretation.
Other highlights from the 2018-19 championship season included:
• At the 2019 Florida Forensic League Novice State Tournament in Ft. Lauderdale, Liam MacMahon placed sixth in Congressional Debate, and Blinston placed sixth in Program Oral Interpretation. Blinston was also a semifinalist in Dramatic Interpretation. In addition, Sofia Lynch was a semifinalist in Congressional Debate.
• Jacobson placed 10th overall in Dramatic Interpretation at the Florida Forensic League Varsity State Championship.
• At the UPenn Liberty Bell Classic in February, the JV Public Forum Debate team of John Barry & McGann went 4-1 in preliminary rounds, finishing as the ninth seed overall. McGann was 11th best speaker overall, and Barry was 15th best overall. In addition, Matias Galguera advanced to semifinals in Congressional Debate.
• At the Florida Blue Key Invitational, Jacobson advanced to quarterfinals in Dramatic Interpretation. In Foreign Extemporaneous Speaking, Galguera broke to octafinals. In Domestic Extemporaneous Speaking, three students—Galguera, Bussey, and McGann—all advanced to octafinals.
• Jacobson placed 6th overall in Dramatic Interpretation at the Yale Invitational.
• Coach Paul Gaba was honored as the FFL Macaw Region "Coach of the Year."
• Wellington Speech & Debate also made and distributed more than 100 Valentine's Day cards for residents of the Arbor Oaks at Greenacres Assisted Living Facility.